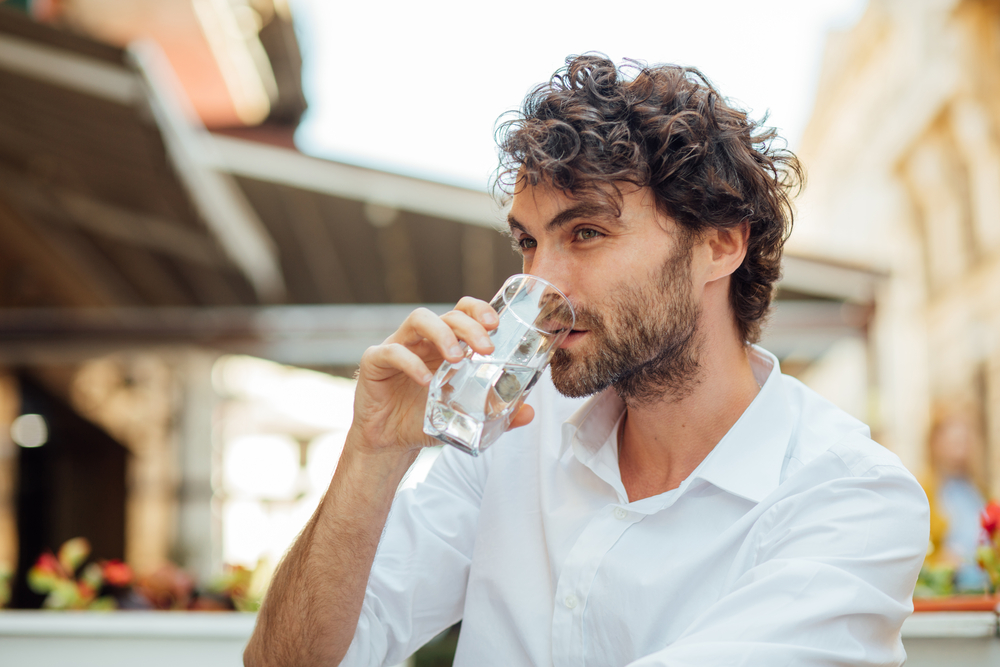 Is the water you're drinking safe? Did you know that tap water, based on tests in EVERY major U.S. city, contains brain-damaging and cancer-causing chemicals, such as lead, mercury, aluminum, chlorine, and fluoride – as well as pharmaceutical drugs!
There's really nothing more important than the water we drink. But most people are blissfully unaware of hidden dangers coming from their kitchen or bathroom water faucets. Tap water is one of the most toxic substances we consume every day. In fact, much of our water comes from sewage filtration plants! Even if our water comes from lakes or reservoirs, it is subject to run-off that contains herbicides and pesticides that we then consume when we drink. This has an impact on our kidneys, our livers, and our reproductive systems and can even lead to cancer.
Our tap water also contains endocrine-disrupting chemicals from plastics, such as PCBs and bisphenol-A, that leach into the environment from plastic bottles and the plastics in water pipes. These chemicals mimic and produce more estrogen in the body, delivering cancer-causing and neurological effects. In addition, the chlorine that is added to our water to treat bacteria kills the good bacteria in our guts. The fluoride added to water is poisonous. Too many parts per billion can literally kill you. Fluoride has been shown to lower thyroid function. If you have low-thyroid, weight-based issues, consider the quality of your drinking water.
But our government refuses to do anything about the problem, so the contamination continues. It's up to us to take control of our health. Buying the best quality water filtration system you can afford is not just smart, your body will thank you.
So where to start with drinking water and filtration?
The most expensive filters you can buy are seven-step to fourteen-step filtration systems under-the-sink or whole house filtration processes. Radiant Life offers fourteen-step filtration systems. These can cost between $1,000 to $2,000 per unit. Such systems eliminate the most contaminants, including arsenic, asbestos, fluoride, and heavy metals, and a whole house system will take care of all the water you use for bathing, drinking, and cooking.
Another type of water-filtration system is gravity based and uses a solid block carbon filter. It filters out volatile organic chemicals (VOCs), chlorine, heavy metals, fluoride, bacteria, parasites, nitrates, and chemicals. It's absolutely amazing. A gravity-based system's only drawback is that it's a two-gallon container that sits on your counter. But the stainless-steel system is much more wallet friendly, coming in at between $200 and $600. One of the best brands is Berkey, which has been tested by independent third-party companies to prove that it removes all those contaminants in tap water that you want to avoid.
Next up is a tie between distilled water and reverse osmosis systems. Distillers work by evaporating and condensing water. They are stainless steel tanks that boil water and then run it through a stainless steel cooling coil. You keep them on your kitchen counter. Distillers can run anywhere between $85 and $280. Reverse osmosis systems can cost anywhere between $400 and $1,000, although they can also be leased on a monthly basis. Unfortunately, these two methods use a lot of water in the evaporation process. You use double the amount of water as compared to other systems. But they get rid of chlorine, fluoride, and heavy metals. If you opt for either of these systems, I advise adding trace minerals to the water you drink.
Believe it or not, much bottled water is simply tap water. But if it is pure spring water, bottled water is far cleaner than the water that comes from your tap. Saka bottled spring water is high in minerals, which is why I recommend it over other bottled waters. It tastes great and is fantastic for your body. The only downside is that it comes shipped in plastic water bottles, which, when exposed to heat, can leach hormone-based disruptors, such as PCBs and dioxins into the water.
Pitcher water filters are economical, though they can vary greatly in quality. Brita water filters are not very effective and have been shown to put around 14 percent of aluminum back into the water after filtering. This is most likely because Brita contains an aluminum filter. After researching them all, ZeroWater is easily the best pitcher I have used. It will set you back around $40 to $50.
If you can afford it, I would say purchase the Big Berkey top-of-the-counter water filtration system for around $320. Here are a few links to products I recommend:
Shower and Bath Filters
Why should bath and shower filters matter? Mainly, they prevent your body from absorbing chlorine. Showering with chlorinated water is more deadly than drinking it. Here's why: during a shower, chlorine doesn't pass through the liver. Steam builds up in the bathroom, and the chlorine enters the air as a gas that you breathe into your lungs from where it moves directly into your bloodstream. Chlorine is a known carcinogen, completely toxic to the body and not good for overall health. Shower and bath filters also remove bacteria, heavy metals and algae.
The Bottom Line
Filtering your water is an easy way to support your health, and you have many ways to accomplish it in a wide range of prices. Let's drink to that!